# Add new site
To add a new site, navigate to the Site field in the header of your DG1 Admin section. Click the SITE dropdown menu and select Add a new site button.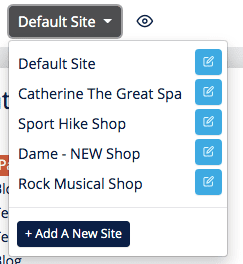 Enter all the mandatory information in General Settings, Language settings, Style, Logos and Store settings tabs, then confirm the changes with Submit

.
Your new site will be saved and will appear in the SITE dropdown menu.
Note
When adding a new site the Shop and Booking are not required but the tax rate is. When you disable the Shop and Booking the tax rate will hide as is part of Shop or Booking and if you do not set the tax rate you could not save the site.
---
# What would you like to do next?