# Switch languages
The moment you add another language to your site, the language switcher will appear in all the parts of administration that contain translatable data.
The language switcher looks like this:

Click on the language dropdown and select another language.
The language of the platform will immediately change.
You can switch between languages at any time or any location of your admin.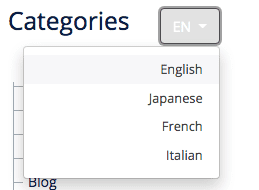 # Locations of the language switcher
Shop:

Products
Brands
Product groups
Product import
Product categories
Promotion tools
Discounts
Payment methods
Shipping methods
Product info modal
Site restrictions
Attributes
Attribute groups

Booking:

Booking products
Booking product groups
Categories
Personnel
Promotion tools
Discounts
Payment methods

CMS:

Pages
Menus
Cookie registry

Mobile app:

Mobile app homepage
News
Locations
Mobile app promotions
Mobile app info page

Marketing: