# Product groups
Product groups are used for diversifying your products according to their specifications or adding products with variations. Before adding products to your shop, it is therefore essential to set up the correct types of product groups. A default simple product group is already defined in your DG1 platform, but the moment you wish to diversify groups of products according to specifications or added variations, you should prepare separate product groups.
To create a new product group, follow these simple steps:
Navigate to SHOP -> Catalog -> Products in your DG1 admin panel and click Product groups on the right side of the Products page header to open the Product groups page.

Click Add in the upper right corner of the Product groups page, select group type from the pop-up window and click Add new .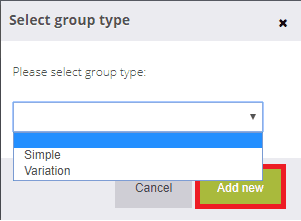 Note
You can choose the Simple group for all products or Variation group for specific products which will be given variants or variations to the main product (for example products in different sizes or colors). To read more on how to prepare a variation group and variations, see chapter Add product variations (opens new window).
Enter the details of your new Product group:

Choose a Name for the product group.
Key is generated automatically.
Custom product group ID - your own identifier for this product group. Useful for importing products via Product import.
Add a Description to your liking - only for internal use.
Type - this field cannot be edited and is intended for your orientation to double check which type have you selected.
Show product price - By default this option is set to Yes. If you wish to hide the prices of products in this product group, choose No.
Note
Once you've added products to your catalog you can decide to show or hide the price for each individual product.
To save your new product group, click Submit .